Revit is commonly used to create 3D models that contain information about the elements of the building. To create the details that are needed on the construction site, for example, most tend to use AutoCad. But did you know that you can also use Revit for Detailing?
There are two methods when it comes to detailing in Revit. You can create a detail from scratch, by using drafting views. Or, a better option, is to use the callout utility from the model. This hybrid option will save you a lot of work when you need to create details.
In this article, I will explain what methods you have when it comes to detailing in Revit. We will take a look at the different methods and how to use the utilities inside the detail section of Revit.
Methods for Detailing in Revit
In Revit, you can model everything you need to create your building. But when you model details the file will grow in size and gets heavier to load, which makes Revit a lot slower. So you will have to make choices when it comes to detailing in Revit.
Tip

I recommend checking out the different Levels of Development (LOD), and try to keep your model between level 200 and 300.
To keep your LOD low, you will need to make choices when modeling. Not every detail needs to be modeled in the 3D view. For example, I model my windows with the framing, but without the anchors. The anchors can be drawn inside a detail view.
Method 1 – Detailing in Revit with Drafting view
If you are in an early stage of engineering and need to create some details, it is possible to create a drafting view. This drafting view will create a Blanco view that is not directly associated with the building model. Inside the view, you are able to change the view scale, detail level (coarse, medium, or fine), visual style (hidden line, or wireframe), and the visibility/graphics overrides. A view template can do better control of the graphics.
Tip

If you use a lot of the same "standard" details each project, it is possible to create a Drafting View inside a Revit Template. Inside the view you can put groups with details (annotations like detail lines , filled regions etc.). These groups can be copy / pasted or transfered to other projects.
To create a drafting view follow the steps below.
Go to the View tab
Click on Drafting View > New Drafting View window will pop up

Give your detail(s) a Name
Put in a Scale > press OK > a Blanco Drafting View will open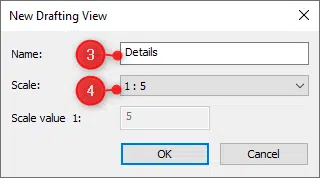 Inside the drafting view, you are able to use the utilities of the detail section in the annotation tab.
Method 2 – Detailing in Revit with Callout
Another method for detailing in Revit is the hybrid method with a callout view. This method is great for when there is already a Revit model. These callouts can be created inside a plan view, elevation, or section. Inside the view, it is possible to add detail items, like detail components, filled regions, etc.
Before we start, let us create a different view, particularly for the callouts. This way, when a callout is created, the view will become the parent view of that callout. The advantage of this is that when you delete the view, the callout will also be deleted (or you can choose to make the view independent)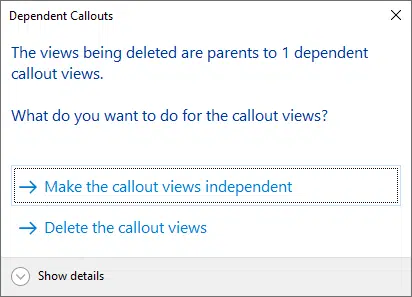 To create a callout open a plan view, elevation, or section, and then follow the steps below.
Go to the View tab
Click on Callout > Choose Rectangle or Sketch a boundary

Go to the Type Selector inside the properties browser and choose a Detail View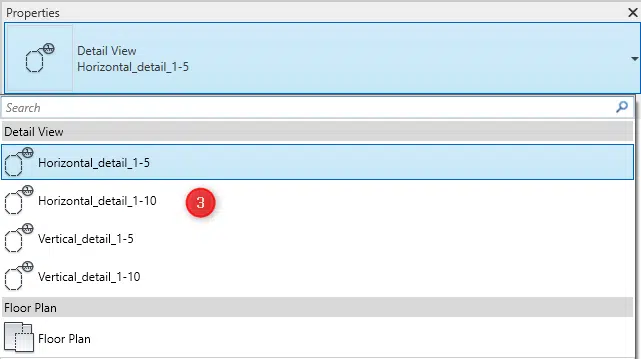 Draw the Rectangle or Sketch inside the view
When the callout is made, you can simply open the view by double-clicking the callout head or right-clicking on the callout and then clicking on Go to View.
Reference Callout
When you create a callout, it is also possible to refer to another view inside your project. For example, you can draw the callout and refer it to a non-associated view, like a drafting view. Another option is to refer to another detail you already made before.
Follow steps 1 and 2 written in the section above and then:
Go to the Modify | Callout section > Click on Reference Other View
Choose a view to refer to (Detail View, Drafting View, Floor Plan, or an Area Plan)
Graphical Output – Lines
Now that you know how to create a detail view by either using a drafting view or callout, we can continue to set up the graphical output by starting with the lines. The lines can be classified into three categories
Line Weights
Line Patterns
Line Styles
Line Weights
The line weights control the line width inside your drawing (dynamic) and on your printed documents like PDF (static). Inside the menu of Line Weights, it is possible to assign a thickness for each scale. There are a total of 16 Predefined Model Line Weights.
I recommend using the ISO 128-2 2020 standards for the thickness. The ISO 128, describes 9 line weights:
0.13mm
0.18mm
0.25mm
0.35mm
0.50mm
0.70mm
1,00mm
1,40mm
2.00mm.
Go to the Manage tab
Click on Additional Settings
Choose Line Weights > Line Weights window will open
Click on Add… (if the scale you need is not available yet)
Search for your scale > press OK to add
Fill in the thickness for each model line weight (1-16) > press OK
To preview the line weights that have been set up you have to disable the Thin Lines (TL) function in Revit. This can be done by going to the View tab, then clicking on Thin Lines in the Graphics section. Another option is to go to the Quick Acces Toolbar and click on the icon of Thin Lines.
Tip

Keep the Thin Lines function enabled as much as possible while detailing in Revit. This options makes the view a lot cleaner, and you can see the details a lot better. Also, lines that are close to each other can be selected easier.
Line Patterns
The Line patterns function in Revit allows you to create lines with a defined pattern. By default, Revit has a couple of predefined patterns that you can use. The patterns you can make exist of Dash, Dot, and Space, these can be mixed into a custom pattern. Each segment has its own value which can be filled in, except for the Dot (standard 1.5mm).
Go to the Manage tab
Click on Additional Settings
Choose Line Patterns > Line Patterns window will open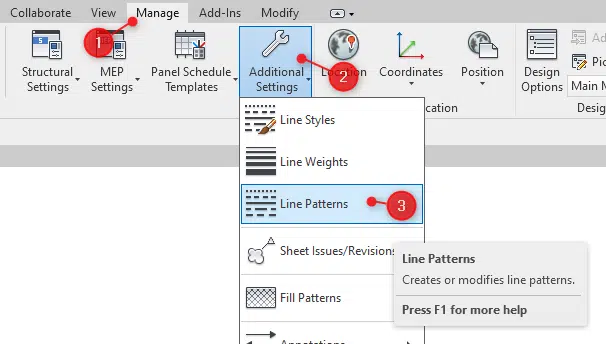 Click on New or Edit… to define a pattern.
Give the pattern a Name
Mix the Type and Value as prefered (Dash / Dot / Space) > Press OK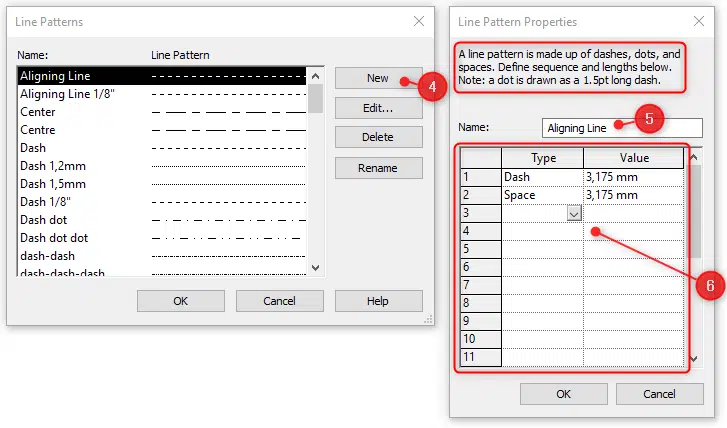 Line Styles
Now that it's clear how to set up the line weights and patterns, it is time to combine these 2 into line styles.
Go to the Manage tab
Click on Additional Settings
Choose Line Styles > Line Styles window will open
Click on New in the Modify Subcategories section
Enter a Name for each new Subcategory
Choose a Subcategory (Lines by default) > Press OK
Add a Line Weight, Line Color, and Line Pattern to your Subcategory > Press OK
Graphical output – Elements
Generally, elements can be assigned with object styles (line weight, color, pattern, and material), this will change the overall graphical output of the elements. But these element styles can also be manually overridden by using the advantage of a View Template. To modify the overall settings follow the steps below.
Go to the Manage tab
Click on Object Styles > Object Styles window will open
Modify Line Weight / Line Color / Line Pattern / Material per category or subcategory > Press OK
To change the graphical output of a view it is possible to override this manually by using the Visibility/Graphics function in Revit. This function will override the overall settings that have been modified in the object styles menu as written above.
To avoid a lot of repetition for each view, I prefer to make a View Template. This template contains all V/G Overrides and more important settings like View Scale, Model Display, Filters, etc. After you have created the view template, you can use this template in multiple detail views.
To create a view template, make sure you first do all graphical settings manually by going to the Visibility/Graphics function (VV or VG by default). After the settings are done, continue with the next steps.
Go to the View tab
Click on View Templates
Choose to Create Template from Current View > New View Template window will open > give the View Template a Name
Modify settings in the View properties if needed (optional)
In most cases, the settings written above will cover your graphical output. Despite that, it still can be that you want some of the element lines to be thicker (emphasize) or even make them disappear. Revit made a special tool for this in the modify section, it's called Linework (LW).
Go to the Modify tab
Click on Linework
Choose a Line Style (take <Invisible lines> if you want to make element lines disappear in the view)
Select line(s) to change the appearance of an element.
If you accidentally change the wrong edge or take the wrong line style, it is possible to restore the lines. In order to do this, open the Linework tool again and choose the line style you want and click on the edge again. To recover the original line style, choose the <By Category> style.
Detail Section Utilities
When the graphical settings for the view are done, the utilities in the Detail section of Annotate can be used to edit your detail. Let's take a look at the most used tools
1. Detail Line
With this tool, you can draw detail lines inside the view. For example, you can draw a dashed line to point out a vapor barrier.
2. Region
To use the regions go to Annotate > Region > Filled Region / Masking Region. The difference between filled and masking are:
Filled region: can be used to create a view-specific area with a fill pattern in it. These filled regions can be used to show different materials inside a detail that you have not modeled, like a gap that has to be filled with insulation for example.
Masking region: can be used to obscure elements inside a detail view. The masking region always is a white box with a border. You can change the borderline style when you start drawing. It is also possible to make an invisible border by choosing the <Invisible Lines>.
The filled regions have some options you can choose from, like Line Weight, Masking, etc. Besides that, you can choose a Pattern Type, Drafting, or Model. The big difference between drafting and a model pattern is that the model pattern will keep its scale relative to the model. This simply means that a tile of 100 x 100 mm stays this size when changing scale, for example.
3. Component
To create a detail component go to File > New > Family > Choose Metric Detail Item or Metric Detail Item line based.
Detail Component: a detail component is a Revit family that can be placed inside a drafting or detail view. With this tool, you can add information to the model, and it is also a faster way than drawing lines and regions. The detail components can be tagged with information. For example, I use components such as roof tiles, aluminum roof caps, detailed window frames, etc.
Repeating Detail Component: as the name suggests, it will repeat a detail component along a path. This can be really useful if you need to repeat a lot of components next to each other. You can specify the layout, spacing, and rotation inside the type properties browser.
After a detail component family is made you can simply load it into the project by using the Load into Project button inside the Family Editor. Inside Revit, you can go to Insert > Load Family.
4. Insulation
Insulation is a special detail component. This prebuilt function can be used to place batt insulation inside the detail view. You can adjust the settings of this insulation, like the length, and width. Furthermore, resizing the bulge width ratio between insulation lines is also an option.
Detail Finishing Utilities
When the callout is provided with detail items, like components, regions, etc. you can add some Keynotes, Text, and Dimensions to finish your detail. The text can be done in several ways, for example, you can use Keynote Tags, Tag by Category, or simply use the Text utility. Read more about Keynotes in this article: How to Use Keynotes in Revit – Complete Guide.
Text: this utility can be used to add text annotations to the detail view. The text notes will automatically scale with the view. To add text go to the Annotate tab > Text.
Dimension: place dimensions between two or more points. To add dimensions go to Annotate tab > Dimension section > Choose Aligned.
Wrapping Up
With the methods described above, detailing in Revit is perfectly possible. Try to keep the model as clean as possible and combine detail components with other utilities to give more information inside the detail view.
I hope this article helped you to create details inside of Revit. If you have any questions, just drop a comment below.