The Project Browser in Revit allows you to cycle and navigate through your project's views, sheets, schedules, model groups, links, etc. The browser, by default, shows a logical hierarchy. When you expand or collapse each branch, lower-level items become visible.
A well-organized Project Browser in Revit enhances the readability and comprehension of views, sheets, and other elements. Revit allows customization of the Project Browser hierarchy through project parameters and grouping.
In this article, I will explain the basics of the Project Browser, and how to use and customize the Project Browser in Revit. Furthermore, I will give some tips about using the Project Browser.
Project Browser Overview
To navigate through different views, sheets, schedules, etc. you can use the Project Browser in Revit. By default, you can find the Project Browser on the upper left side of the User Interface. If you are missing the Project Browser follow the steps outlined below:
Open the View tab > Windows panel
Click the User Interface dropdown-menu
Check Properties (default shortcut: PP)
An alternative but quicker way is to right-click anywhere in Revit and then hold your cursor on Browsers > Select Project Browser.
Opening any view, sheet, etc. in the Project Browser is now possible by double-clicking on its name or right-clicking and selecting Open. An opened (active) view, sheet. schedule, etc. is indicated by a Bold view name
To rename views, sheets, and schedules, you can rename by right-clicking the view and selecting Rename…, pressing F2, or slowly double-clicking on the item's name.
Project Browser Location
When the Project Browser is visible you can change its location to your requirements by dragging its title bar. Dragging the bar to one of the sides of the User Interface will snap automatically. To change the size of the Project Browser, you can drag its edge.
When working with multiple monitors it is possible to locate the browser on the other screen, allowing you to have more workspace, for example. Revit will save and remember your changes to the Project Browser upon restarting.
Navigating The Project Browser
When handling bigger projects with multiple views and sheets, it can be challenging to navigate and locate the right one. For better searching and locating the item you wish, you can use one of these methods:
Searching

Revit 2023 and earlier: You can type the name of an item in the Search bar by right-clicking a main branch and then selecting Search… Use the Next and Previous buttons to find more items matching the search criteria. If you need to perform an exact search, you can use the Match Case option.
Revit 2024: You can type the name of an item in the Search Box located at the top of the Properties Browser. Any matching keywords will be highlighted in the filtered list. The filtered list is updated instantly after typing.
Branches: Expand or collapse all or individual top-level branches in the browser, you can right-click on a branch and select either Expand All, Expand Selected, Collapse All, or Collapse Selected.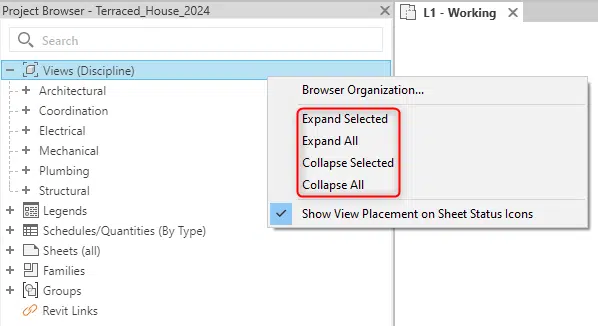 Tip

With the Revit 2024.1 update, you can now zoom in or out in the Project Browser for easier reading. To zoom in or out of the Project Browser, place your cursor inside it and hold down the CTRL key while scrolling.
Reverse searching
To find an element in the Project Browser, you can also select an element from the model, right-click, and then select Find in Project Browser. This method highlights the element in the Project Browser. When you right-click without selecting any element, the active view or sheet is highlighted in the Project Browser.
Sheet Status Icons
Since Revit 2023, it is possible to see if views in the Project Browser are already placed on a sheet. The checkbox in front of each view indicates whether a view is already on a sheet. A blue checkbox indicates the view is on a sheet, while a blank checkbox indicates it is not.
If you do not like this newly added feature, you are allowed to turn it off by right-clicking in the Project Browser and unchecking Show View Placement on Sheet Status Icons.
Project Browser Organization
Now that we have a better understanding of the Project Browser basics, we can continue to create a custom Browser Organization. The purpose of this is to improve the readability and organization of your project's project browser.
In the example below, I am utilizing custom shared parameters to establish a browser hierarchy for my workflow. Of course, you can experiment with the default parameters and your own custom ones to see what works best for your needs.
Tip

If you want to learn more about Shared Parameters and how to set them up as Project parameters, you might like this article: How to use Shared Parameters in Revit.
Follow the steps outlined below:
Open the View tab > Windows panel
Click the User Interface dropdown-menu
Click on Browser Organization
Alternative: Right-click on a main branch (Views, for example) and select Browser Organization.
In the Browser Organization dialog click on New
Give the organization scheme a Name > Click OK
The Browser Organization Properties opens with Filtering, you can add your filters here if required. For example, you can add a Sheet Name filter, which filters out all views not on the sheet.
Open the Grouping and Sorting tab
Add the Group by parameters, in the example, I use the following order: Discipline, main_folder (custom parameter), and sub_folder (custom parameter).
Select a Sort by parameter > Click OK
After clicking OK in the Browser Organization Properties dialog, you'll notice that the Project Browser changes immediately. Note that you are flexible to set a custom Browser Organization to Views, Sheets, and Schedules and that they can differ from each other.
When setting up the Project Browser with custom parameters for the first time, it may take some time as you need to add values to Views, Sheets, and Schedules. In the example above, I utilized View Templates to add the primary and subfolder values, thereby increasing my efficiency.
Tip

Read more about View Templates in this comprehensive guide: View Template Revit – Everything you need to know.
Wrapping Up
The Project Browser in Revit provides a convenient way to cycle through and navigate your project's views, sheets, schedules, model groups, links, and other elements. It's recommended to create a well-organized Project Browser to enhance the readability and efficiency of your project.
In Revit, you can create a custom hierarchy in Browser Organization using predefined and custom parameters. Proper grouping, sorting, and filters can enhance workflow.
I hope this article helped you to learn the basics of the Project Browser in Revit, and how to create your custom hierarchy for it. Feel free to leave a comment if you have any questions, tips, or tricks I did not mention.