The Revit Starting View is the first thing that shows up when you or any project member opens a project file. To create professionally-looking files, the Starting View can be a valuable addition to display specific project information and even an overview of your 3D model.
The default configuration for the Starting View in Revit is set to <Last Viewed>, which means it will open the last accessed view after saving the file. Smart utilization of a Starting View can significantly reduce the project opening time.
In this article, I will explain how to set up a Starting view for Revit and how to create a professional-looking Starting View. Additionally, I will provide tips on what to include in this view.
Starting View Revit
In Revit, you designate a view that displays by default when you open a particular model. By default, the Starting View is set to <Last Viewed>, which is the last view after saving the file. Setting up a well-thought Starting View can reduce the loading time when opening your model.
Moreover, you can add a lot of project information to the Starting View of your project. This is very useful for other project members when they open your project and notice the important project data you like to share.
Did you know you could use any type of view available in Revit as a Starting View? This includes the type of views in the list below:
<Last Viewed> (Revit's default)
3D View
Area Plan
Drafting View
Elevation
Floor Plan
Legend
Reflected Ceiling Plan
Schedule
Section
Sheet
Structural Plan
Setting up a Starting View in Revit
Now that you know what kind of views you can use for the Starting View, it's time to set up the Starting View for your project. In the example, I used a Sheet as a Starting View. Follow the steps I outlined below:
Open the Manage tab > Manage Project panel
Click Starting View > Starting View dialog opens

In the Starting View dialog, click the dropdown menu
Select a View
Click OK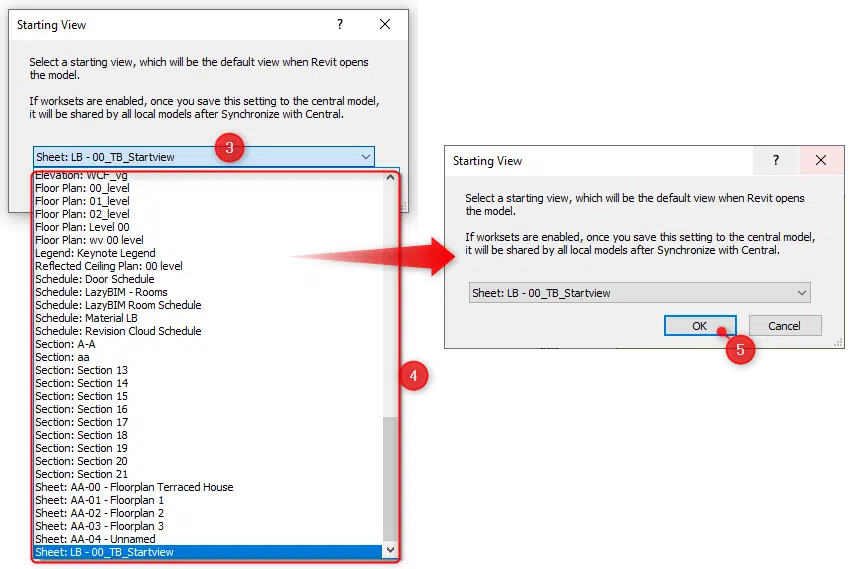 After clicking OK, you have set the Starting View for your project. The Starting View instantly shows up after saving and reopening the file. Note that if you are working with Workset in your model, the Starting View is visible after syncing this to the Central file. All local files created from the Central file now contain the Starting View.
Tip

If you're interested in learning more about Worksets in Revit, you may find this article helpful: How to Use Worksets in Revit.
Create a Custom Starting View
If you like to add a lot of project data to your Starting View, the best method is to create a "Title block" family. This allows you to create a Sheet view type as the Starting View. To create a custom "Title block" family, follow the steps written below:
Click File
Hover over New
Select Title Block
Select a Template family for the Title Block. It is recommended to choose A4 or A3 format, which is enough to contain a lot of information.
Click to Open the family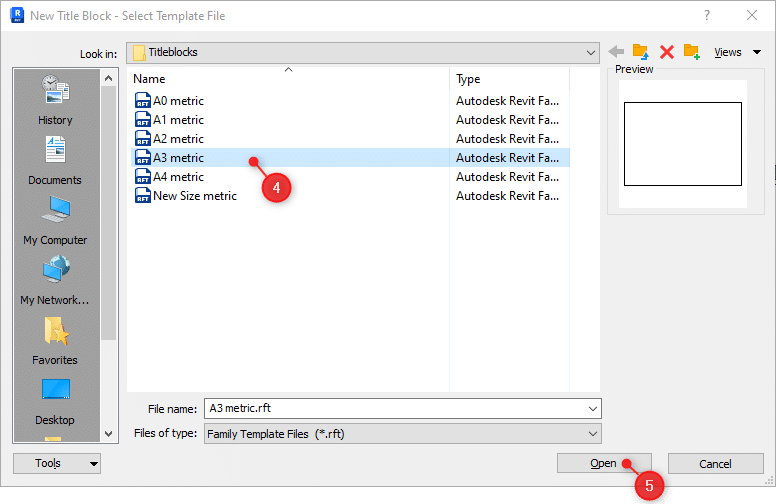 Inside the Title Block family editor, you can add lines, filled regions, images, text, and labels to your requirements. For Sheet parameters and project information, you can use Shared Parameters in the label.
A: Text
B: Labels
C: Lines
D: Filled Region: How to Create Filled Region in Revit
E: Images
Save the Title Block with a proper name > Load into Project
Open the View tab > Sheet Composition panel
Click Sheets > New Sheet dialog opens

In the New Sheet dialog, select the Titleblock you created > Click OK
Fill in the project parameters and optionally add a 3D view of your model. Note that you should keep the 3D model as lightweight as possible to reduce loading time when opening it.
This sheet is now set up with a nice and professionally looking Title Block, which you can set as a Starting View for your Revit model file. You can find the steps to set a view as a Starting View above.
Tip

If you use a Sheet as a Starting View, you can deselect the "Appears In Sheet List" property in the Properties Browser. This will prevent the sheet from appearing in the Sheet list.
Best Practices for Starting Views
Creating a Starting View is a great way to share project data with team members, providing an overview of the project. To ensure that project members have access to the most relevant information, consider focusing on highlighting only the most important details in the Starting view.
In the list below I highlighted some of the best practices for Starting Views:
Model Disclaimer: One way to exercise more control over how the model is used is by drafting a disclaimer that outlines which elements can be utilized and which ones cannot.
Project Information: You can include various project information in the Starting View, such as client data, building site address, project members, and stakeholders. Additionally, it is beneficial to add the template version used in your company to create the model.
Company Logo: For an improved Starting View, consider incorporating the company's logo.
3D View or Plan View: It can be helpful to add a 3D view or Plan View of the project to the Starting View but keep in mind to keep the 3D light due to the loading times. You could use a 3D View Template to control this view.
Company Drafting Standards: A Starting View can also contain the company drafting standards, such as Line Styles, Text Styles, Tags, Dimensions Styles, etc.
Wrapping Up
The Revit Starting View is the first thing you or project members see when opening a project. You can use this feature to share project information and give an overview of the model of your project. When sharing the file with project stakeholders, it can give a more professional appearance.
Using a Title Block family is advised for incorporating labels, text, lines, images, and Filled Regions into your company's Starting View.
I hope this article helped you set up your Starting View in Revit and create a custom Starting View. Feel free to leave a comment if you have any questions, tips, or tricks I did not mention.